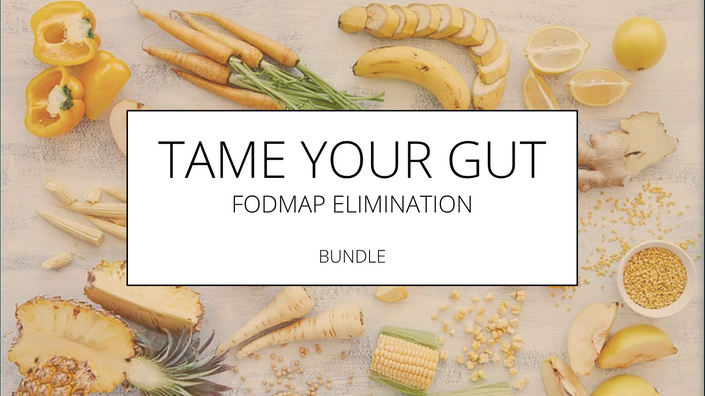 Tame Your Gut
It is everything you need to rock the elimination phase of the lowFODMAP diet!
Tame Your Gut is the ultimate vegan guide to the elimination phase of the low FODMAP diet, to help you "tame" your IBS symptoms. Made with the Registered Dietician Jenna Haworth, there is a meal plan, with all the recipes you need. The technical no-to-know stuff is also explained, because I'll be the first to admit, this isn't a simple diet.
What's Included In The Tame Your Gut Bundle?
It is everything you need to rock the elimination phase of the lowFODMAP diet!
Video Tutorials
Portion sizes & the Monash App tutorial
Portion sizes and FODMAP Stacking Masterclass
How To Read Labels & Spot Hidden FODMAPs
The Meal plan and Recipes walk-through
Shopping & grocery planning for pantry essentials
Worksheets & Printables
Full 7-Day meal plan verified by a Registered Dietician
IBS Symptoms Tracker Diary
A complete guide to prepping for the 7-Day meal plan
Course Curriculum
Introduction
Available in days
days after you enroll
The Low FODMAP Diet Protocol Explained
Available in days
days after you enroll
Your Symptoms Diary
Available in days
days after you enroll
Frequently Asked Questions
How long do I have access to the course?
Forever!
What if I am unhappy with the bundle?
I would never want you to be unhappy! If you are unsatisfied with your purchase, contact me in the first 30 days and I will give you a full refund or you can switch to a better-suited bundle.
What if the diet doesn't reduce my symptoms?
Real talk here, clinical trials have found only 75-80% of IBS sufferers will benefit from eating lowFODMAP. So for 20-25% it won't help. For this reason, I've decided to add an extra incentive to give it a go: I will refund you 100% if you eat lowFODMAP for 2 weeks and don't notice any improvement, within 30 days of your purchase. So you have to take action and you won't lose out if it doesn't work.
I'm not vegan yet, can I still join?
Yes! While all the recipes are plant-based and you don't have to be a strict vegan to make use of the meal plan and resources. Veganism to me is about choosing compassion wherever possible and think it's most compassionate to help people wherever they are in their IBS-vegan journey.
What units do you use for cooking measurements?
All recipes are in metric AND imperial. I use US cups, oz, lbs and fl.oz and then grams and ml.
What people say...
"The information you have given us here in Your Wild Gut Project and on your YouTube channel is absolutely invaluable. FODMAP was my final option after years of trying EVERYTHING (most of which included high FODMAP foods -- ugh, I was "poisoning" myself!!) FODMAP restrictions are hard enough, but then take out the meat, and my head was spinning. I am thankful every day for finding you -- I honestly have never felt overwhelmed since that point. So thank you thank you!!!"
- Kristi, Los Angeles, California
---
"Thank you, Carrie. This is all amazing, just so helpful.

I have attempted the Low FODMAP diet a couple of times now, always unsuccessfully.
If I'm being honest I have also always believed it was an impossible diet. Whoever heard of eliminating healthy foods before and our vegetarian/vegan stables at that! I knew the reasons in theory but never really understood them until your clear and discerning explanations. Coupled with your own experience I felt finally, someone who can make sense of it all, show me a how to implement this diet and provide information and real support on every aspect and step of this journey.
So this time, with your guidance, I am 19 days into the elimination stage. I have had two slip ups (which I have used as further evidence and motivation to continue, again thanks to your understanding that this may occur and addressing it in the program) and still I have for the first time in 12 years started to experience a healthy gut along with easing symptoms.
Now that I am more educated, beginning to get results and remember what it was like not to have these digestive issues, I am also beginning to be able to notice what it really is that affects my gut..... it's no longer just everything I consume. Carrie, you truly are a gift to all of us struggling with gut health and trying to navigate this Low FODMAP diet. I am so grateful I found the wild gut project..... you cover and understand absolutely everything!"
- Jody, Geelong, Australia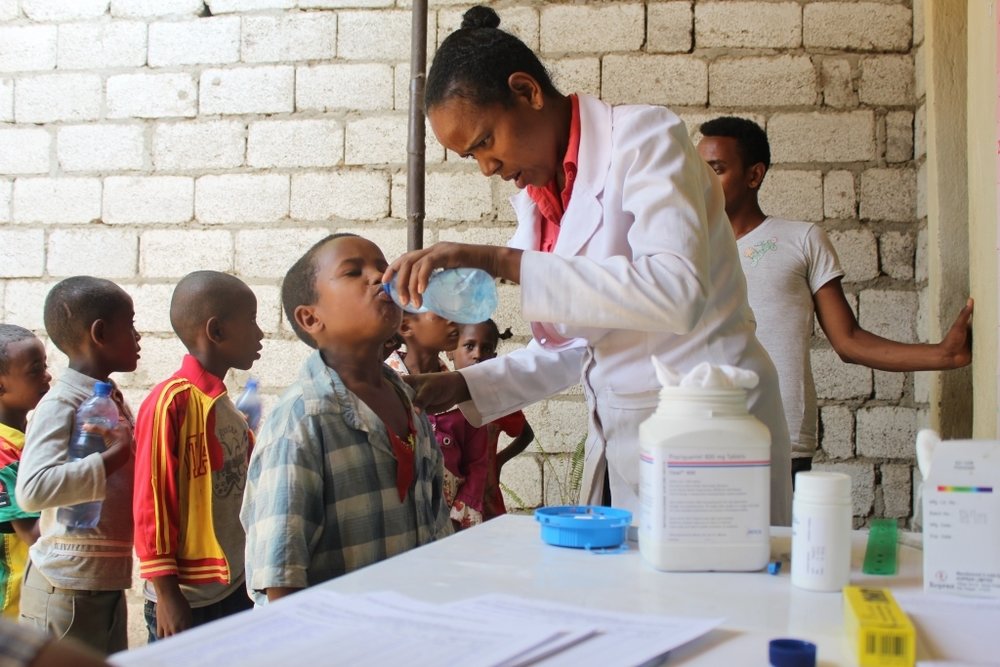 At Least 10% of the profits are donated to Evidence Action's "Deworm The World" Initiative
One of the top, high-impact charities in the world, as calculated by GiveWell.Org
" More than 836 million children are at risk of parasitic worm infections worldwide. A significant body of evidence shows that deworming works to improve children's health, well-being, education, and long-term economic future." - The WHO, 2016
As IBS sufferers, I think we can all relate to the disruption an upset stomach has had on our lives, except it probably didn't also lead to anaemia, malnourishment, and impaired mental and physical development!
Sadly, even though it's so easy & cheap to treat, it's still endemic in some of the worlds poorest countries. This is why I'm pledging at least 10% of the profits to help pay for deworming treatment programmes around the world.